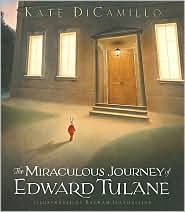 Kate DiCamillo writes children's books, and she writes them well. For example,
The Tale of Desperaux: Being the Story of a Mouse, a Princess, Some Soup, and a Spool of Thread
, not only has an unstoppably whimsical title, but it also won for DiCamillo the 2004 Newberry Medal. Other of her books include
Because of Winn-Dixie
,
The Tiger Rising
, and
The Miraculous Journey of Edward Tulane
, which as it turns out, from my experience anyway, just so happens to be one of the very best presents you can give to someone if you desire them to spend an entire Saturday in bed, crying. Her latest is
Louise, The Adventures of a Chicken
, and the Canadian Press has
a very nice article
about Kate
and the "terrible dark decade" of her twenties, relocating to Florida from Minneapolis, and the importance of simple, yet profound language.